Think your business isn't at risk for a crime, think again! As the crime rate steadily increases and workplace violence is on the rise, it is more important than ever to have a security plan in place.
The Fact is, Any Type of Business is at Risk for Theft, Burglary, Vandalism, and Other Criminal Activity.
Making the decision to hire a security guard service for your business or community is not something that should be taken lightly. Ensure the service you hire to protect your guests, tenants, employees and assets, is experienced and has qualified personnel to meet all your security needs.
Customer Service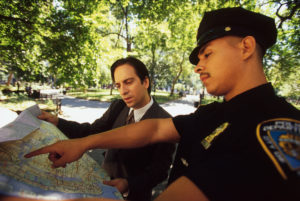 Security Guards are also customer service ambassadors. Whether they are at the front door, parking lot gate, or behind the front desk, security guards interact with the guests and employees. Helping guests with directions, validating identity, and walking employees to their cars after dark. Often times, they are your guest's first point of contact. With Curtis Protective Service you can be sure it will be a great first impression and a great image will be maintained.
Prevent Problems From Happening
Being proactive about security will save money, time, and a ton of headaches. A uniformed security guard can prevent criminal activity before it happens. Actively trained to spot suspicious activity and respond. Studies show intruders and thieves are less likely to target a business with a security guard.
Handling Criminal Activity
Often times criminal activity goes unnoticed. With Curtis Protective Service, you can have peace of mind knowing they are highly trained to spot suspicious activity, detect criminal activity, effectively catch and detain a perpetrator, as well as file reports and witness statements.
Ever business owner and property manager strives to keep their employees, guests, and assists from harm. Keeping your property safe and secure by hiring a security guard is a valuable investment.